HOME
Auckland's 15th Annual International Buskers Festival
Showcasing nine of the most spectacular street performers on earth!
These talented street performers will knock you off your feet with their incredible skills when they take to Auckland's Waterfront this anniversary weekend 2015.
Juggling, dancing, comedy, bike tricks, hoops and acrobatics. Our performers will leave you stunned and flabbergasted. Get ready to meet Bendy Em, a pint-sized entertainer who will have you on the edge of your seat as she comedically bends and contorts her body into freakily mind-boggling positions; Mario Queen of the Circus with his unique mix of complex juggling tricks and universal sex appeal; Fire Guy who rides his skateboard and breaths and juggles fire at the same time; and Bike Boy who will wow you with his fearless attitude and incredible bike tricks.
The Festival runs from Friday 23 to Monday 26 January 2015. Day shows start every day at 12 noon. Night Shows are on Friday and Saturday at 7.30pm in Market Square, Viaduct Harbour.
So empty your piggy bank, pockets and swear jar for a handful of loose change. Then make your way down to the waterfront for the experience of a lifetime.
---
Auckland International Buskers Festival Mobile App
ShowGizmo is the official smartphone app for The International Buskers Festival. Free to all participants, ShowGizmo puts our event in the palm of your hand!
The app is available via the mobile web URL https://showgizmo.mobi/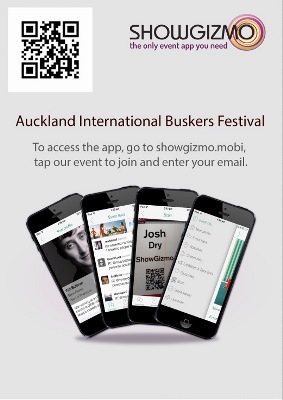 • Access the programme and map anywhere, any time
• View performer bios
• See profiles of sponsors
• Keep up with alerts and news
• 'Favourite' things you like
• Send messages into the event feed
• Find the people you're looking for
You can access the Mobile web app by going to showgizmo.mobi Then simply click on our event 'International Buskers Festival'.