Performers
Here are our amazing 2013 Performers!
Click on the images to read their expanded profiles.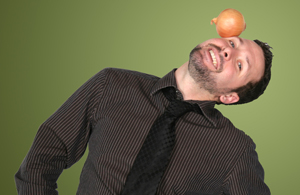 Matt Baker
(USA)
Matt Baker has performed his comedy stunt show all over the world and on numerous television programs including America's Got Talent. He has broken 5 Guinness World Records, and has won various awards for his show.
Vincent Mongeon
(Canada)
Vincent Mongeon will give you an athletic and impressive, high-level break dance and hand balance acrobatic show!
Murray Molloy
(Spain/Ireland)
Murray Molloy's repertoire includes stunts which go from contortionism and escapology to balloon modelling, clown and even swallowing swords. He is one of less than fifty artists sufficiently trained to swallow swords currently performing in the world.
Equilibrium Circus
(Canada)
World class acrobatics, amazing one-of-a-kind tricks, and a girl on fire is the recipe for an award winning show that is sure to thrill audiences of all ages.
Wacky Chad
(USA)
Laugh until it hurts as this stunt comedian balances a shopping trolley on his face and rides another person on his miniature bicycle. Wearing his trademark orange, Chad resembles an satsuma defying gravity as he reaches neck-straining heights on his air powered pogo stick!
Eloise Green
(Australia)
A romantic comedy, starring Daphne who dazzles and dazes her audience with death defying acrobatics, multiple hula hoops and clowning.
Billions Cobra
(Canada)
Billions Cobra's show features spectacular stunts including fitting his body through the world's only flaming tennis racket, and his newest stunt, the flaming bullwhip. He is also TV famous, appearing on The Late Show with David Letterman and the Ellen DeGeneres Show.
Jessica Arpin
(Spain/Italy/Brazil)
Jessica Arpin astounds her crowds by performing acrobatics on her faithful yellow bicycle. Her show is a mixture of incredible bike skills, circus acts, clown and poetry.
The Four Kings
(Australia)
Australia's favourite beatboxer with 3 Trophy winning break dancers, bring you an explosive, hilarious, sexy and not to mention highly interactive show!